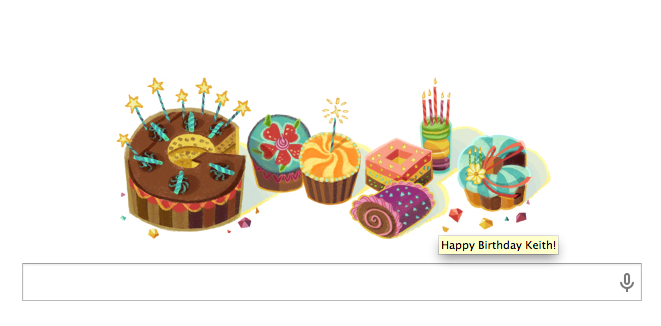 Yesterday, I had my 30th birthday.  I have now entered a milestone year and can look back on past achievements and future endeavors.
In the past year, I've bought a house with Justin, gotten married, assisted Justin in obtaining his permanent residency and we've celebrated being together for 6.5 years.
Coming up are even more advancement in my career, we will be initiating surrogacy, and I have another ten years until I hit the big 4-0!
Google helped me to celebrate yesterday with the image above.  We had a low-key evening last night with Justin studying after a nice dinner while I painted even more of our fence.  Mom and Dad came down for the weekend as well and we had a nice time together.  Tonight, Justin and I went to HuHot, where the Grill Warriors treated me to a Happy Birthday and a huge oil fire on the grill for my "birthday candles"!  He had to do it a second time because I didn't make a wish on the first fireball!