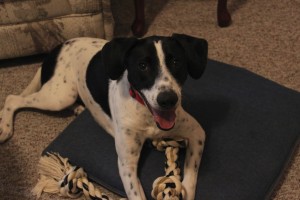 Justin and I would like to introduce you to Sparky, our newest family member. We adopted him from his earlier parents who had taken great care of him and had done all the first legwork of shots, neutering and housebreaking. I greatly appreciate that we got a great friendly dog who is already house-broken!
Sparky is a Dalmatian/Pointer mix. He now weighs about 40 lbs and is 9 months old. Justin had responded, on August 31, to an ad and late Tuesday we went to see him. He was very hyper but just wanted to play and towards the end before we had left was already calming down. So, before we left we agreed that we would take him and pick him up that weekend. After a few visits to various stores on Friday after work, we had all the supplies we would need and picked him up on Saturday morning. The car ride home was interesting – he was trying to chase cars that were going by – I was in the back to try to calm him down though. His first weekend at our house was pretty good. He peed on the floor in our bathroom only once and it was probably because the rug was a green color. Otherwise he lets us know when he has to go out. After a few days of going in and out he already knew which house is his and walks up to the door to wait for us to let him back in.
The only problems that we've had, which are going to take time to fix, are that he needs to stop jumping on people and he needs to get used to sleeping in our kennel at night. His previous parents had already been doing that so I think it's just because of the new surroundings.
Me being me, I setup a Sparky-Cam to view him throughout the day. View the Sparky-Cam to watch him during the day too.
Welcome Sparky!