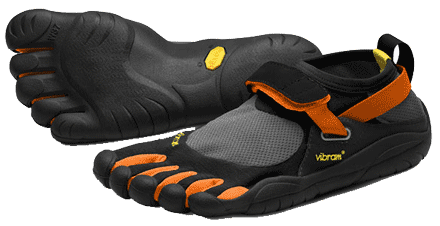 In the middle of October, I decided to take the plunge and buy a pair of Vibram Five Finger shoes.  I'd seen a few people wearing them in the gym and had heard about them before, but had never actually tried them on even.  I decided that the idea of barefoot running was intriguing enough to justify the cost of purchasing the shoes.  Naturally, because I'll try to get a discount if possible, I signed up for an account on RockCreek.com first which gave me a 15% off coupon for my first purchase.  My first purchase being the Vibram KSO (Keep Stuff Out).  I had purchased a size 42 at first which turned out to be slightly too tight which required that I had to send it back and re-order the correct size.  RockCreek's customer service team were great in getting this resolved for me as well.
After I received the correctly-sized shoe (size 43), I went for my first run in them – which was to go two laps around our ponds which is a total of three miles.  This turned out to be a mistake.  I wasn't expecting the massively different way in which you run without the cushion of a normal shoe.  I ended up making my calves hurt so bad that I could barely walk for almost a week.  This proved to be especially bad as my first half-marathon was just one week away.  I reverted back to normal shoes and forced myself to run what I could so that I wasn't completely worthless during that race.
After my half-marathon, I went back to the Vibrams.  I started off by just wearing them around the house and after a short while started wearing them to work.  It was weird as you could feel everything since they are pretty thin.  I also started running an occasional 1.5 mile run to try to force myself to adjust my running pattern to account for the different stride required.  After enough time of that I finally started running on the road.  My road runs are generally longer – about 4-7 miles.  You wouldn't think that running on the road is that much different from running on a pavement around a pond, but it's a subtle difference.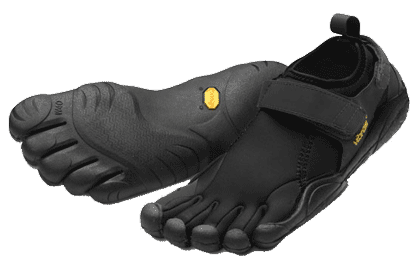 During Black Friday this year, RockCreek was giving 20% off of your order for the entire weekend.  I took the opportunity to buy a new pair of Vibrams.  This pair however, was the Vibram Five Finger Flow.  I chose this style as it was better suited to cold/wet conditions and the mesh of the KSO was making my feet quite cold as the weather was starting to get colder and colder.
I've now been running exclusively in the Flow since I received them and wearing them to work as well on occasion.  They are quite nice and seem to give a bit more protection under my feet although the neoprene on the top has really helped to keep my feet a lot warmer.  They are also tighter fit around the ankles which helps to "seal" the feet so they stay warmer and dryer as well.
Another item which has helped is that I had finally ordered some socks.  I had ordered some cheap toe-socks from Meritline.com which are OK.  They work, but the pair that I received for Christmas from my parents are significantly better.  They are the Injinji Performance mini-crew sock. Quite comfortable and very warm.  Would highly recommend them to anyone wanting to buy a pair to go with your Vibrams.
Are they weird?  Yes.  Do people look at me differently?  Sure they do.  I've gotten asked about them while shopping at WalMart and also while buying gas.  My co-workers have affectionally started calling them my "monkey shoes."  However, they are pretty comfortable and I can't really see myself going back to running in "normal" shoes again.