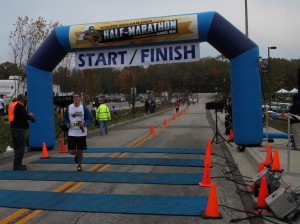 Yesterday was the first annual Purdue Half Marathon and 5K.  It was a pretty cold day ( 43º according to the Nike Running app), but the race itself was pretty fun.
As it took me days to fully recover from the half marathons that I have run, I have decided that they definitely aren't for me.  I congratulate those that did run it, but I'm perfectly happy to run the 5k alone.
I'm also happy with my overall time although it definitely is lower than the first 5k I've ever ran back in 2010.
OVERALL RESULTS:            (Number finished = 763)

Place    Age
Overall  Grp  Name                     Pace     FINISH
-------------------------------------------------------
     74   11  KEITH MCDERMOTT          07:57    24:42.5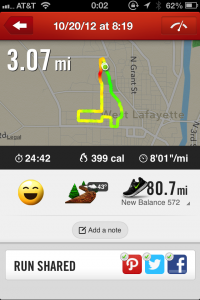 The hardest part of the entire race was definitely the climb back up the back of the stadium. That is quite a steep incline!  (You can tell where this was on the track by looking at the darkest part of the heat-map for my run of the 5k to the right.  I actually just walked part of the way up!)
Despite the one slow-part I encountered, I did enjoy the race and would definitely run it again and recommend it to others.  It was the inaugural race so of course there will be kinks to work out, but it can only get better over time!
Enjoy a small gallery below of pics of runners from the half marathon and others in the 5k portion as well.