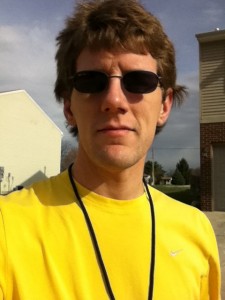 As I continue on my medication for my acne treatment, I am finding running to be harder for various reasons but I'm still going strong. Today was Spring Fling at Purdue which is an afternoon of activities in appreciation of staff and faculty.
After lunch with some coworkers I had a French tutoring session with my tutor, Julie. I then went home, took Sparky out and got ready to go running. I ran a few times with Justin last week which were quite nice. I haven't really ran with him much so it was nice for us to do something together outside that's good for our health. This was the first run where I've really pushed myself in several weeks and it showed. While I had a decent overall pace of 8:19/mile, I only ran 4.5 miles and that was with two breaks.
This ran was flawed for several reasons. Primarily, I shouldn't be running during the day at all anymore for a few reasons. Although I did have lots of sunscreen on, it's just too hot to be running during the day. Either nighttime running or early morning runs will have to be required. Second, my longer hair is making it a lot to run just because heat gets trapped more when trying to escape from the body.
Although I did run 4.5 miles today, I actually had to stop twice to rest which was pretty disappointing psychologically. Still, it was a good run overall that was also o a more hilly route than normal and went a direction I normally do not go which provided a nice change of scenery.
After I complete my Isotretinoin, I'll need to start training for a half-marathon as I am running one in Chicago on September 11th of this year. Yes, it's also the 10th anniversary of 9/11. Until next time, au revoir!