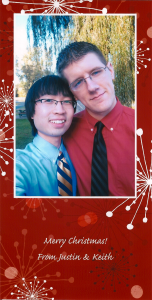 Last year, Justin and I sent out some holiday cards to some of the family.  We had a credit from Kodak Gallery and used it to buy a limited number of cards that turned out pretty nicely.
Always wanting to try other services though, this year we're going to try Shutterfly instead.  We have used them in the past for photo prints (mostly 4×6) and were happy with the result.  It has been a while since I've used their site, but I believe that it was easier to use than Kodak's site.
Justin and I have been on a few trips this year that have yielded some good pictures of us in various locations so there are no shortage of photos to pick from.  Also, this year we had purchased a Canon T1i DSLR so the quality and "feel" of the photos has improved drastically since then and since we've learned to use all the features of the camera.  I've picked out a few stock designs from Shutterfly that are contenders for this year's final design. I'm thinking about going with something from their Christmas photo cards although they also have regular Christmas cards along with more generic Holiday cards.
Along with having a wider selection than Kodak had, the stock photography in their examples gives the cards a somewhat vintage look – with some of the pictures we've been able to take with the new camera there are some cool opportunities there…  Which one will we pick?  Find out if you get a card!
*Disclaimer: This post is sponsored by an offer from Shutterfly for 50 free holiday cards for bloggers.  Visit their site to get in on this offer yourself as well.