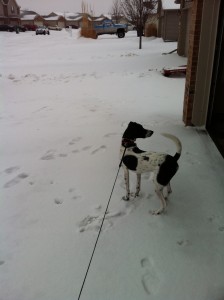 It's been a long time since I have actually been able to have a recess, but after many years, I'm having one again.  Of course, this isn't the same as going to the playground during lunch in elementary school as this is the term that Purdue University uses when the weather is so bad that the campus closed completely, except for essential staff.
The campus is supposed to open up again tomorrow, but I'm doubting it with the weather forecast for tonight calling for a blizzard and the current weather being ice pellets.  I'm not sure how long it's been since the last snow recess on campus, but I've heard it was back around 1999 and before that was around 25 yrs earlier.
This morning I went outside to shovel and the picture above is of Sparky looking around just before I started.  At least this morning the accumulation was about 3/4″ of sheets of snow.