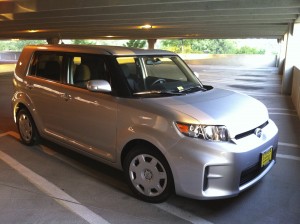 The day I fell off my bike, we decided that one car just wasn't working out anymore and it was time to start looking for a second car.
After work, I walked my bike to the car (Justin had it) and we went to Bob Rohrman's Fairgrounds event.  Pretty much every car was at the local fairgrounds along with all the sales reps.  We knew from earlier searches that we wanted to look at a Scion xB and saw the differences between the xB and the xD (xD is like the smaller cousin to the xB).  After taking it for a spin around the area I knew that I wanted it.  However, we also went for a test drive of a Kia Soul as we'd been looking into that car as well.
The Kia Soul, although cute and all, doesn't have the same driving experience that the Scion xB does.  The Scion has a larger engine and a more solid build in my opinion.  After looking at a few cars we obtained information on what Rohrman could offer for financing and went home to look over everything.  The next day, a Saturday, we ended up driving to Scion of Danville to look at their Scions and talk with their salesmen.
After a short bit we knew that we wanted to buy the 2011 Scion xB from this dealer instead.  Our salesman was David and our experience with him and the dealership in general was more friendly.  David let me test drive a manual-transmission Scion xB despite my warning that I'd never attempted it before.  After a quick lesson, I was able to get the car up to 10 mph, but stalled it when I went to brake.  After going back in and discussing the various options, we picked out the car we wanted and scheduled to pick it up that next Tuesday, August 31.
On August 31, we went in and picked up the car, signed all the paperwork and drove off as the new owners of a 2011 Scion xB.  Although Justin doesn't really like to drive the car, he does like driving the Maxima which is great – I love the Scion and gladly will take the driver's seat.