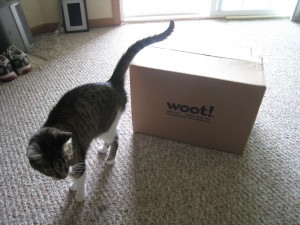 Today I received my first Random Crap from Woot.  I purchased this during the Woot Happy Hour (5pm-6pm EST every Wednesday) on April 28.
I've been a member of Woot for over three years but just at the end of April was finally able to get a Random Crap (also called Bag of Crap or BoC).  Normally when one of these pops up (almost exclusively during a Woot-off), the Woot servers are brought to their knees and the site is barely accessible.  As with almost all Random Craps, this one cost $3 plus the standard $5 Woot shipping.
So, after waiting for FedEx SmartPost, which as everyone knows is the slowest shipping method known to humanity, it arrived two weeks later.
Let's take a look shall we?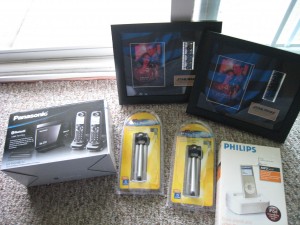 In my box, I received the following items:
2x Star Wars Attack of the Clones Film pieces framed
2x mini-tripod for digital camera
1x Phillips iPod Dock/Charger (doesn't work for iPhone)
1x Panasonic  Bluetooth Enabled-Telephone with two handsets
Let's begin by assessing the status of the items.
I don't really care for the Star Wars things but they're neat – I have something similar for the first Spiderman movie as well.  Although they're the same, the pieces of film are from different parts of the movie.
We already have a mini-tripod that we got from Meritline about a year ago, but extras are good.  They are handy little things.
The dock doesn't work with my iPhone which is a bummer but it does work with my iPod Classic so it'll probably end up getting hooked into my receiver in the living room and will be semi-useful.
The Bluetooth enabled-phone is the most interesting.  It currently retails on Amazon for $70.  This is actually the best item as you can pair it via bluetooth to up to two cell phones.  It then can receive/make calls from the handsets and route the calls through either cell phone.  It will auto-pair with the phones when they are in range.  So far it looks like the cell phones can be anywhere in the house and still be in range of the base.  This will allow us to put the cell where we get the best reception then just use a handset to make/receive calls.  Works great so far.
As with most Random Crap items, it wasn't without some problems.  The Panasonic thing was missing the manual and a belt clip.  It was obviously a return but seems to work so far.  The Phillips thing was open but had everything with it.  Everything else was sealed.
All in all, a pretty good first Random Crap from Woot.  I'll be gladly buying another as soon as I can!