It's coming up on that time of the year again to start preparing for Christmas.  This year will be especially busy as we will be going to China again.  It has been nearly three years since we've gone back and seen Justin's family.  There is a lot of preparation work that goes into a trip of this scale along with time and money.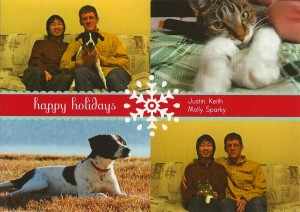 It's good then that Shutterfly is making other parts of Christmas preparation easy for me.  I will be using them again this year for our yearly Christmas cards.  The first year we had used Kodak but used Shutterfly last year which I think was a better experience.  Last year we went with the design on the left.  While I was happy with the design, etc I was highly disappointed in how the pictures of Justin and I turned out but it's my fault, not Shutterfly's.  We had very bad lighting conditions and I hope that this year's card is of a higher quality.  A few things helping in that area are that we know more now about how to use our Canon camera but also we now have a nice flash for it that should help.
Shutterfly has an almost overwhelming number of possible designs and layouts available, from their holiday cards to Christmas cards to standard photo Christmas cards.  While there is a very large number of cards available, it is quite nice to have such a range of choices and not have to do the same thing every year.
Last year Shutterfly sponsored my cards and supplied them for free which was quite nice.  This year they have taken it to the next step and supplied me with an extra promotional code for 25 free cards for my readers.  Post in the comments below what your favorite holiday memory is to win.  I'll pick a winner at random on November 19 and contact you via email.
*Disclaimer: This post is sponsored by an offer from Shutterfly for 50 free holiday cards for bloggers.
*Contest Rules: Contest is open from October 25 2011 – November 18 2011 11:59PM.  One winner will be picked at random and will receive a coupon code for 25 free cards from Shutterfly.  Shipping/tax charges may apply.