This week has been pretty good for technology updates in my little world.  I'd like to highlight a few of these updates.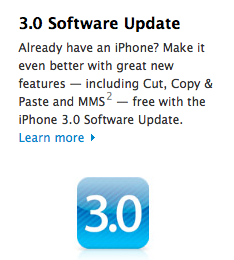 First, the new iPhone 3.0 software update came out Wednesday.  The changes to the various programs are mainly fairly minor.  Such minor items include the ability to not load remote images in Mail, Mail and Messages now go widescreen for easier typing and Stocks has been enhanced with a widescreen view.  However, there are larger updates included that really make the update well worth installing.  What would these be?  How about global search (similar to QuickGold on jailbroken devices), cut-copy-paste and undo support across all apps with an intuitive interface that makes it very easy to select what you want to copy/paste across any app?  Also, the entire phone seems faster and more responsive now more than ever before.
Along with this great update is the fact that it's able to be jailbroken already on the current iPhone 3G.  Friday I went through and jailbroke mine to have the best of everything.  Coming soon is the unlock (Ultrasn0w).